Dakar Rally: Leader Sam Sunderland retires from race
by Grant Boone
in Sports
— Jan 10, 2018
San Juan de Marcona (Peru) (AFP) - Frenchman Sebastien Loeb claimed his first win of the 2018 Dakar Rally in Tuesday's fourth stage as Peugeot swept the podium in San Juan de Marcona, while Britain's Sam Sunderland was forced to end his defence of the bikes title through injury.
"If it weren't for the punctures, we would've been in an even stronger position", said Al Attiyah.
Speaking about his run in Stage 3, Oriol Mena said, "This was the first really hard stage with tough navigation". The Indian rider making his second appearance in Dakar, has moved up to 29th position in the overall standings. "The navigation was a little bit easier this morning because the bikers started first this morning".
"They navigated really well so most of the time we followed the lines of the bikers. we did not drive the stage on full attack, just with a good speed".
The Qatari dropped to fifth overall, 12 minutes 15 seconds off the lead.
Peugeot also suffered its own heartache with former Dakar Rally leader Cyril Despres coming to a halt on the gruelling stage after losing a wheel and conceded chunks of time to fix a replacement wheel to tumble out of the top 20. During the stage, he also stopped for a few minutes to help a fellow competitor who crashed in front of him.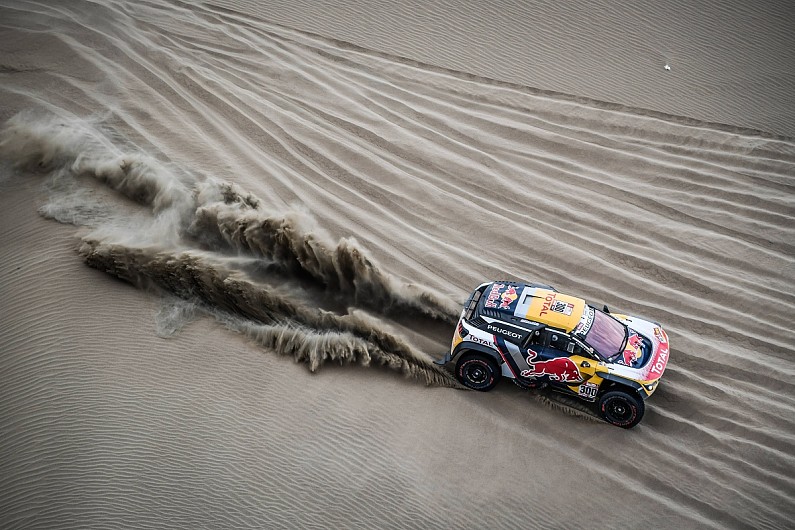 Nani Roma, the 2014 champion from Spain, rolled his vehicle a kilometer from the finish.
Al Attiyah/Baumel completed Stage 3 04:05 ahead of Peugeot's Stephane Peterhansel. He finished the stage, with navigator Alex Haro largely unhurt, but was flown by helicopter to a nearby airport for medical checks in Lima. The stage two result is not as exciting as the first stage for the Bengaluru-based rider as he had finished the first day on the 13th spot.
India's CS Santosh closed the Stage 3 at 101st position and overall at 57th position after running out of fuel at the challenging Dakar Rally 2018.
Willem du Toit (KTM) was 69th at the finish, gaining six places to slot in at 67th overall overall, while Gerry van der Byl (KTM) had his best day yet on the Dakar, finishing Stage 3 118th and moving up four places to 120th overall, and Wessel Bosman came in 122nd and second-last, more than five hours behind Sunderland, dropping one place to 121st overall, after eight and a half hours in the dunes.
The Rally will camp in San Juan De Marcona for the 4th Stage as well, where a change in the landscape at the start is expected to provide a new challenge to the riders but not before hitting dunes again for total run of 444 kms including the liaison.