I'm A Celeb fans give final verdict on Holly Willoughby as host
Get Me Out Of Here! runner-up Emily Atack, 28, who told Harry Redknapp, 71, she fancies his son Jamie, 45, when they were in camp.
He said he was anxious he would have nothing in common with his fellow campers when he first arrived on the show, but that they had helped him make it through.
As they were reunited, Harry told her: 'It's like being in prison and you've given me a prison visit.
During his three weeks in the jungle, Redknapp entertained with amusing tales about his life, and charmed viewers with his love for Sandra, his wife of 54 years.
Atack said she was "honoured" to be in the final two with Redknapp.
While many feared if the show could go on without regular co-host Ant McPartlin, who is now on an extended break from showbiz, Declan Donnelly found the flawless stand-in in Holly Willoughby.
Emily added of her experience: "I've learned I can survive in the jungle so i feel like I can do anything".
"I didn't really know what I was doing and where I wanted to go and this place has just given me so me so much self-acceptance". "I've just learned to accept who I am".
Barrowman, who appeared emotional as he left the camp, said it was "a bit of relief and a bit of excitement".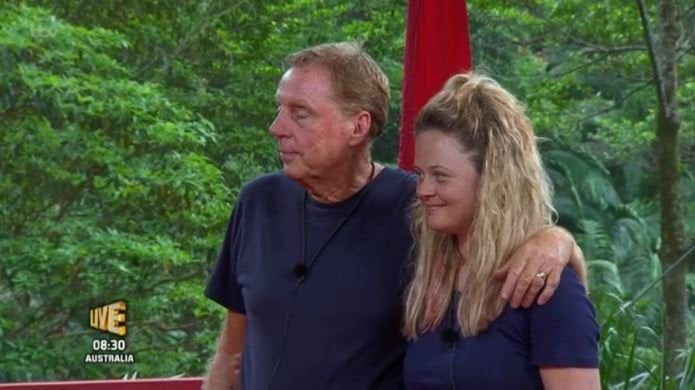 ITV Emily Atack finished as this year's runner-up
"Oh don't, I hate rats, I'm scared of rats, don't let one go up my leg please, oh my God", said Redknapp.
He said being on the show had been one of the best things he had ever done and that it had taught him a lot about himself.
This year's series has seen Harry take on gruesome Bushtucker Trials and adapt to jungle life like a pro, although there were fears that the football manager might not make it to the end of the series.
Atack had to wear a helmet filled with critters such as cockroaches and spiders, while Barrowman was tasked with eating jungle cuisine, including a dead spider.
Redknapp's endurance was tested in the Danger Down Under trial, in which he had to lay in a dark underground chamber while creepy crawlies scurried all over him.
He was presented his crown of twigs by past winners Scarlett Moffatt and Joe Swash.
The This Morning presenter replaced Ant McPartlin to front the programme alongside Declan Donnelly.
And Holly Willoughby, 37, seemed delighted as she wrapped up the 2018 season with a sweet family photo as she gushed 'Thank you for having us'.
But perhaps more comedic than their double act were her reactions to the Bushtucker Trials, which at times have been more entertaining to watch than the actual trials themselves.