Oscars academy sets out new diversity standards for best picture contenders
Films hoping to compete for a Best Picture Oscar in 2024 and beyond must meet specific inclusion standards by hiring people from underrepresented groups for a certain percentage of on- and off-screen roles.
Others brought a wholly different type of criticism, with comedy writer Allison Kilkenny arguing the rules didn't go almost far enough and set a "laughably low bar" for diversity in film, while another online detractor dubbed them "ridiculous pandering with no real change". In recent years it has broadened its membership in a bid to address the problem.
Inspired by the British Film Institute's standards used to determine certain funding eligibility in the United Kingdom and eligibility in some BAFTA categories, AMPAS' new Best Picture requirements (detailed here) will be monitored for the Oscars to be held in 2022 and 2023, but won't be mandatory until the 96th Academy Awards in 2024. All categories other than Best Picture will be held as per their current eligibility requirements.
Parasite, the South Korean thriller, won the awards for Best Picture, Director, Foreign Language Film and Original Screenplay at the 2020 Oscars. This includes racial and ethnicity representation among leads and supporting characters, general ensemble casts, and within the story that's being told.
The third relates to the "main storyline/subject matter", which requires the film to be "centred on an underrepresented group (s)".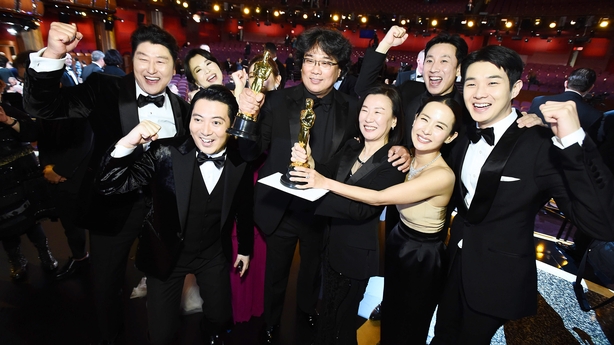 Director Foreign Language Film and Original Screenplay at the 2020 Oscars
To meet the creative leadership and project team standard, at least two "creative leadership positions and department heads" must be filled by those belonging to underrepresented groups, including the "casting director, cinematographer, composer, costume designer, director, editor, hairstylist, makeup artist, producer, production designer, set decorator, sound, VFX supervisor and/or writer".
Five years after the #OscarsSoWhite hashtag triggered controversy, the group behind the awards has made inclusion a requirement to be considered to win them.
The Academy's new rules also require the companies behind future Best Picture nominees to establish paid apprenticeships or internships, with the explicit goal of opening the door to communities underrepresented in the film industry.
Academy President David Rubin and Academy CEO Dawn Hudson said in a joint statement on Tuesday that they believe the new Best Picture eligibility criteria will help bring about "long-lasting, essential change" in the industry. The Academy is committed to playing a vital role in helping make this a reality.